Piraeus
From Wikipedia, the free encyclopedia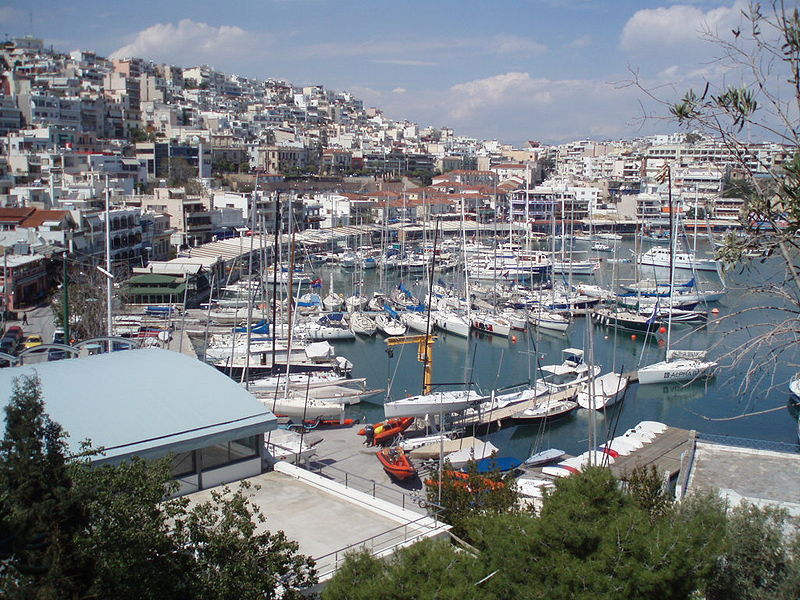 Piraeus ( /paɪˈriːəs/ or /pɪˈreɪ.əs/; Greek: Πειραιάς Peiraiás [pireˈas], Ancient Greek: Πειραιεύς, Peiraieús,) is a port city in the region ofAttica, Greece. Piraeus is located within the Athens Urban Area, 12 km southwest from its city center (municipality of Athens), and lies along the east coast of theSaronic Gulf.
According to the 2001 census, Piraeus had a population of 175,697 people within its administrative limits, making it the third largest municipality in Greece and the second largest within the urban area of the Greek capital, following the municipality of Athens. The municipality of Piraeus and several other suburban municipalities within the regional unit of Piraeus form the wider Piraeus Urban Area or Greater Piraeus, with a total population of 466,065.
Piraeus has a long history, which dates back to ancient Greece. The city was largely developed in the early 5th century BC, when it was selected to serve as the port city of classical Athens and was transformed into a prototype harbour, concentrating all the import and transit trade of Athens. Consequently, it became the chief harbour of ancient Greece but declined gradually after the 4th century AD, and began to grow again in the 19th century, especially after the declaration of Athens as the capital of Greece. In the modern era, Piraeus is a big city bustling with life and an integral part of Athens, home to the biggest harbour in the country and all the typical characteristics of a huge marine and commercial-industrial center.
The port of Piraeus is the chief port in Greece, the largest passenger port in Europe and the third largest in the world, servicing about 20 million passengers annually. With a throughput of 1.4 million TEUs, Piraeus is placed among the first ten ports in container traffic in Europe and the top container port in Eastern Mediterranean. The city hosted events in both the 1896 and 2004 Summer Olympics held in Athens.