Larissa (regional unit)
From Wikipedia, the free encyclopedia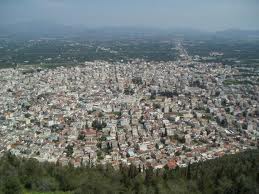 Larissa (Greek: Περιφερειακή ενότητα Λάρισας) is one of the regional units of Greece. It is part of the region of Thessaly. Its capital is the city of Larissa. (Total population 282,447).
Larissa is the second largest regional unit in Greece, exceeded only by Aetolia-Acarnania. It covers about one-third of Thessaly. It borders the regional units of Kozanito the northwest, Pieria to the northeast, the Aegean Sea to the east, Magnesia to the southeast, Phthiotis to the south, Karditsa to the southwest and Trikala to the west.
The tallest mountain in Greece, Mount Olympus (2,917 m) is situated in the northeastern part of the regional unit. Mount Ossa is situated in the east, at the Aegean coast. The lower stretch of the river Pineios flows through the Vale of Tempe, between Olympus and Ossa.
The northern part is covered with forests, but most of the regional unit is fertile land, theThessalian Plain.