Aegina
From Wikipedia, the free encyclopedia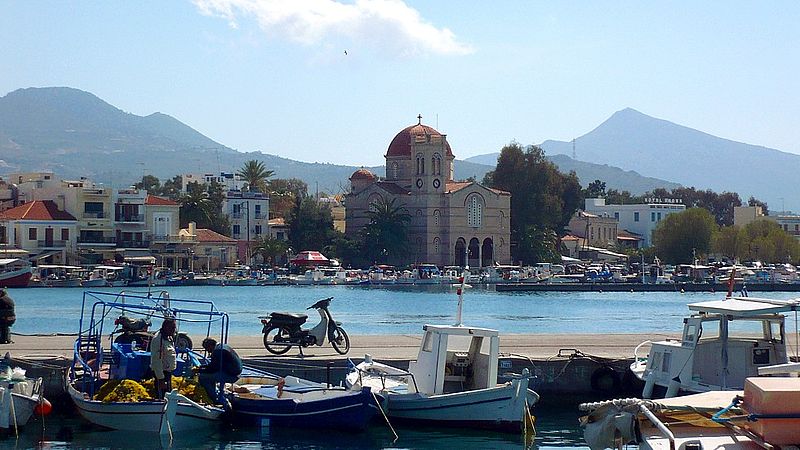 Aegina (Greek: Αίγινα - Aígina [ˈeʝina]) is one of the Saronic Islandsof Greece in the Saronic Gulf, 17 miles (27 km) from Athens. Tradition derives the name from Aegina, the mother of Aeacus, who was born on and ruled the island. During ancient times Aegina was a rival to Athens, the great sea power of the era.
Aegina is roughly triangular in shape, approximately 15 km (9.3 mi) from east to west and 10 km (6.2 mi) from north to south, with an area of about 87 km2 (34 sq mi).
An extinct volcano constitutes two thirds of Aegina. The northern and western sides consist of stony but fertile plains, which are well cultivated and produce luxuriant crops of grain, with some cotton, vines, almonds, olives and figs, but the most characteristic crop of Aegina today (2000s) is pistachio. Economically, the spongefisheries are of notable importance. The southern volcanic part of the island is rugged and mountainous, and largely barren. Its highest rise is the conical Mount Oros (531 m) in the south, and the Panhellenian ridge stretches northward with narrow fertile valleys on either side.
The beaches are also a popular tourist attraction. Hydrofoil ferries from Piraeus take only forty minutes to reach Aegina; the regular ferry takes about an hour, with ticket prices for adults within the 4-15 euro range. There are regular bus services from Aegina town to destinations throughout the island such as Agia Marina. Portes is a fishing village on the east coast.