Xanthi
From Wikipedia, the free encyclopedia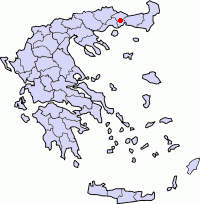 Xanthi (Greek: Περιφερειακή ενότητα Ξάνθης) is one of the regional units of Greece. It is part of the Region of East Macedonia and Thrace. The capital is Xanthi. Together with the regional units Rhodope and Evros, it forms the geographical region of Western Thrace.
Xanthi (Greek: Ξάνθη, Xánthi, [ˈksanθi]); is a city in Thrace, northeastern Greece. It is the capital of the Xanthi regional unit of the region of East Macedonia and Thrace.
Known references to Xanthi (Ξάνθη), or Xanthia (Ξάνθεια), date back to 879 AD. It began as a small village and experienced all the tumultuous periods of the history ofThrace, such as raids, disasters, ethnic conflicts, civil wars. The population of the region of Xanthi had dwindled down to almost nothing and almost everything had been destroyed when the Ottomans conquered the region in 1361. For this reason, the Ottomans brought settlers from the depths of Asia Minor, which is how Genisea(Γενισέα) was created, while Oraio (Ωραίο) and Xanthi remained mainly Greek and Christian centres.