Oinousses
From Wikipedia, the free encyclopedia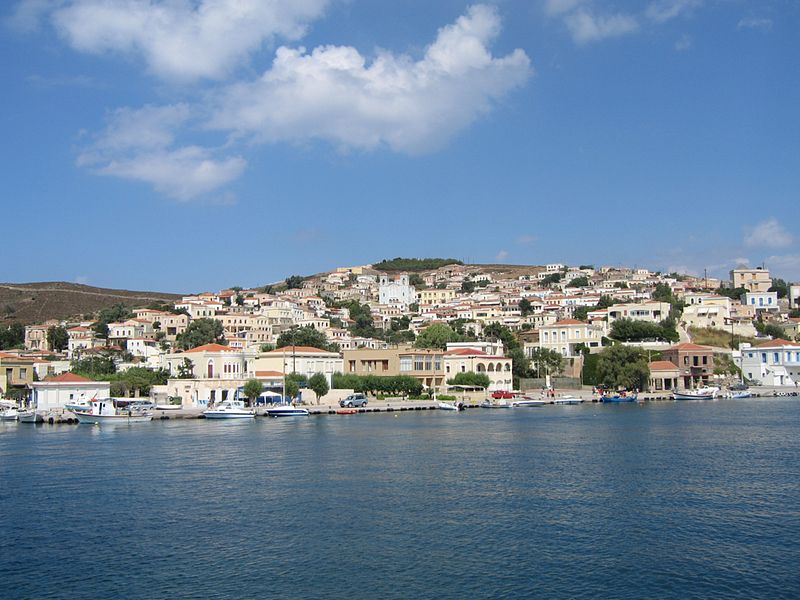 Oinousses (Greek: Οινούσσες), alternative forms: Aignoussa (Αιγνούσα) or Egnoussa(Εγνούσα) is a barren cluster of 1 larger and 8 smaller islands some 2 km off the north-east coast of the Greek island of Chios and 8 km west of Turkey. Administratively the islands form a municipality within the Chios regional unit, which is part of the North Aegean region. The principal town of the islands and seat of the municipality is also called Oinousses.[1] Oinousses has a small resident population, living primarily in the islands' town of Oinoússes (pop. 999), and a recently built monastery. The town is centred around a square (plateia) and a small port; it includes a school, several churches, a Naval high school and a maritime museum. The only other populated settlements are Kástron (pop. 32) and Aspalathrókampos (19).
The vast majority of the workforce of the island is engaged in seafaring, fishing and goat-herding.
The islands are noted as the origin of an unusual cluster of successful ship-owning families: the Lemos, Pateras, Chatzipateras, Kollakis and Lyras families. Whilst most of the families now live elsewhere most of the year, the islands and town are well maintained with a strong naval connection. Oinoussians abroad are noted for their successful entrepreneurial skills in the industrial transportation industry. Although the number of Oinoussian ship operating companies has fallen since their heyday in the 1960s they still maintain a formidable position in the industrial transportation industry.