Antikythera
From Wikipedia, the free encyclopedia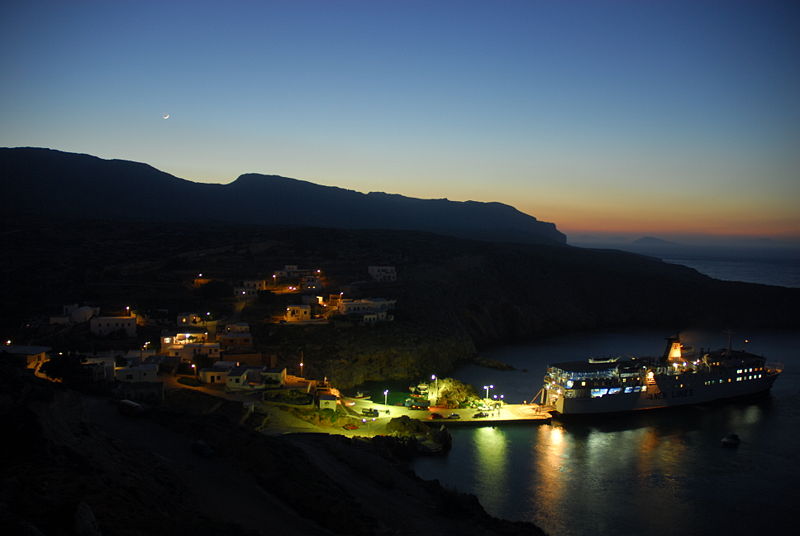 Antikythera or Anticythera ( Ancient Greek: Ἀντικύθηρα Greek:Αντικύθηρα, [andiˈciθira], literally "opposite Kythera") is a Greek island lying on the edge of the Aegean Sea, between Crete and Peloponnese. Since the 2011 local government reform it is part of the municipality of Kythera island.
Antikythera may also refer to the Antikythera Strait, through which Modified Mediterranean Water enters the Sea of Crete.
Its land area is 20.43 square kilometers, and it lies 38 kilometers south-east ofKythira. It is the most distant part of the Attica region from its heart in the Athensmetropolitan area. It is lozenge-shaped, 10.5 km NNW to SSE by 3.4 km ENE to WSW. It is notable for being the location of the discovery of the Antikythera mechanism and for the historical Antikythera wreck.
Its main settlement and port is Potamós (pop. 18 inhabitants in 2001 census). The only other settlements are Galanianá (pop. 17), and Charchalianá (pop. 9). Antikythera is sporadically visited by the LANE Lines ferry Vitsentzos Kornaros, on its route between Piraeus (Athens) and Kissamos-Kastelli in Crete.